Our SpecSure warranty comes with every one of our products or systems. It is a warranty unique to Gyproc and it is a symbol of our promise to you. The warranty promises the following:
All Gyproc® products are free from defects and have been manufactured using cutting edge technology which are in accordance with international standards.
As long as the Gyproc® system is properly installed in accordance with our published instructions, guidance and specifications, the specified level of performance will be delivered.
All Gyproc® systems have been fully evaluated and tested to meet approved fire, acoustic and robust standards as detailed in our website, brochures and all other relevant documents.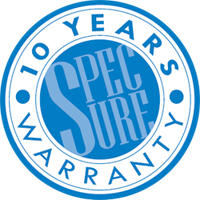 SpecSure offers a 10-year warranty, from the date of the invoice, on all products and systems purchased. In the event that we fail to follow through on our promise, we will replace the product or system that has failed at our own cost.
To qualify for the unique SpecSure lifetime system warranty you will need to install the complete genuine Gyproc® proprietary systems in line with the recommendations specified by the company. The systems must also be comprised of only branded Gyproc® components, as we are unable to guarantee that other manufacturers' components will meet our rigorous system performance and quality.